FKM10.000D Food Grade mixer for the production of functional blends for the meat industry.
Gebrüder Lödige Maschinenbau GmbH Paderborn/Germany has delivered a Horizontal Ploughshare®-Mixer type FKM10.000D to one of the largest German manufacturers of functional blends for the meat industry. Especially for such large mixing plants the horizontal design is the best choice, and Lödige designed the perfect machine for them.
The mixer has a total volume of 10.000 liter and can handle batches up to 7.000 liters. The target of the customer is to produce batch sizes up to 5 tons. He will make dry mixes of spices in which he will inject liquid components during mixing.  The pure mixing time per batch is approx. 5 – 8 minutes, depending on the recipe, plus of course the time needed for filling and discharging the mixer.
The mixer has several inlets, 3 inspection doors and one central outlet. For hygienic reasons, The complete mixer is in stainless steel and installed in a clean room. Indeed, this machine was installed with a "black/white separation" which was inspired by the pharmaceutical industry for which Lödige also produces mixers and tablet coaters. The main drive unit of this Lödige mixer is installed behind the wall in a separate maintenance room. All further drive parts or bearings on the mixer are covered with hygienic designed stainless steel hoods.
This really is the new generation of Food Grade Mixing and Lödige is proud to be part of this interesting project.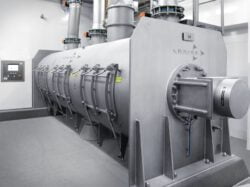 Tags:
# Lödige
,
food grade menger
,
food grade mixer
,
hygienic design
,
kruidenmenger
,
meat industry
,
menger
,
ploegscaar menger
,
vleesindustrie