D.W. RENZMANN introduces the new CLEANfleX ex. washing machine
Based on the existing Type 100 washing machines, D.W. RENZMANN developed the new CLEANfleX Explosion-proof, ATEX-compliant washing machine for cleaning with all common solvents.
NEW : D.W. RENZMANN  CLEANfleX ex.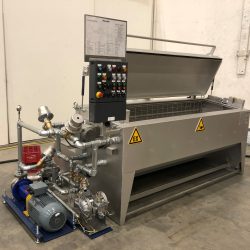 The CLEANfleX ex. Is a top loader with closed washing chamber and separate, integrated washing solvent reservoir.
The housing is made of stainless steel and comes in three internal lengths : 100, 150 and 200 cm.
The parts to be washed are placed on a stainless steel grating and are cleaned by a rigid spraying system with spray bars positioned on all sides of the cleaning chamber.
A powerful pump unit and an explosion-proof motor support the  "washing" and "draining" functions. The Internal air extraction system with a powerful suction fan and an inventive air circulation system make sure that the cleaning vapours are evacuated safely.
Automatic washing program consists of a washing, draining, and internal air extraction cycle. All these program steps can be selected individually.
D.W. RENZMANN Apparatebau GmbH has been developing, manufacturing and selling cleaning systems for paint and varnish producers for nearly 50 years.
Their core competency is the removal of stubborn residues and the handling of the flammable organic solvents or aggressive alkaline washing agents used for this purpose.
RENZMANN develops modern cleaning processes and technologies that comply with today's increasingly restrictive environmental and occupational safety regulations and reflect the aim of sustainable environmental protection. The perfect combination of washing agent and cleaning technology ensures that residues are dissolved quickly and effectively and subsequently removed from the surfaces. D.W. Renzmann designs, manufactures and sells specialised equipment, and offers services like profitability calculations to help potential customers in finding the appropriate machine for their washing tasks.
Together with the local agent ESKENS PROCESS SOLUTIONS, D.W. Renzmann will provide you a local high-end service, including commissioning, assembly, repair and maintenance. They can offer you a complete new washing room or they can connect your new equipment to pre-existing exhaust air or waste water treatment systems.
Interested in a free trial at the D.W. Renzmann test centre please contact us at info@eskens.com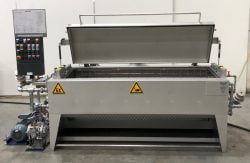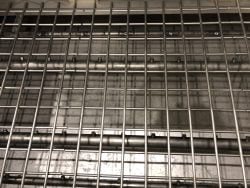 Tags:
ATEX
,
solvents
,
washing