DYNO-MILL Agitator Bead Mills for the Pharmaceutical industry
Controlled deagglomeration, dispersion and true grinding of solid particles in a liquid medium are the principal objectives of wet-milling technology. WAB has significantly improved the performance of wet-milling technology with the development of new machines and techniques. Particle sizes below 100 nanometres can be achieved, and new industries have learned to appreciate the performance of the DYNO®-MILL grinders.
One of them is the pharmaceutical industry, more precisely to achieve enhanced bioavailability and for sterile productions:
ENHANCED BIOAVAILABILITY
Many modern active pharmaceutical ingredients have poor solubility properties. Bioavailability can therefore become a challenge in product development. This is where the DYNO®-MILL PHARMA wet-milling technology helps: By reducing the particle sizes during wet grinding, the available active ingredient surfaces increase over-proportionately strongly and improve the bioavailability of the active ingredient. Pharmaceutical compounds with a crystalline structure are particularly suitable for mechanical wet milling.
STERILE PRODUCTION
Selected active ingredients are produced under sterile conditions using wet-milling technology. The introduction of a sterile production line is always a challenge and requires close cooperation between the customer and the machine manufacturer. At the start of a project we take the necessary time to clarify all technical requirements and to create a complete requirements specification.
The DYNO®-MILL PHARMA series offers machines which were specially developed for sterile production. The most important features are:
• Cleaning-In-Place (CIP)
• Sterilization-In-Place (SIP)
• Semi-automatic or fully automatic control of the CIP/SIP process
• WAB SCADA system (compliant with 21 CFR Part 11) for control, data acquisition and data processing available as an option
• Machine production in compliance with current Good Manufacturing Practice (cGMP)
• Material certificates in compliance with FDA requirements
The WAB-Group utilizes its decades of experience in wet-milling technology in the pharmaceutical industry to develop optimum solutions in close partnership with the customers.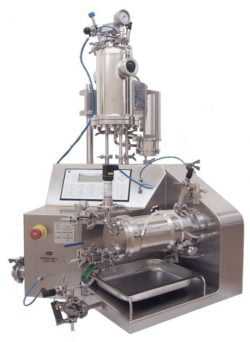 Tags:
api
,
bio availability
,
pharmaceuticals
,
vaccin
,
wet grinding