DYNO®-MILL UBM now also can work with 0.2 mm grinding beads
WAB often advises to use the Japanese Tosoh beads in the new DYNO®-MILL UBM mills, and with the latest modifications we can now also use the very small Tosoh beads of 0.2 mm in these bead mills. This gives our customer in the digital ink industry the opportunity to go further down in particle size using a mill equipped with relatively inexpensive PU DYNO®-DISC BC agitator discs.
Controlled de-agglomeration, dispersion and true grinding of solid particles in a liquid medium are the principal objectives of wet-milling technology. Particle sizes below 100 nanometres can be achieved… when using the right beads.
The WAB-group and Eskens Process Solutions always advise their customers to use high quality grinding beads in the DYNO®-MILL bead mills.
In the DYNO®-MILL ECM AP mills we strictly advise to use only the Tosoh YTZ Ytrium stabilised Zirconium beads because they are very hard. The Tosoh beads are relatively expensive, but you can use them a very long time. On top of that, they cause less ware to your grinding chamber because they stay perfectly round. They do not break and therefor don't block your sieve.
For less critical grinding processes our customers can also fill their DYNO®-MILL UBM mill with Jyoti Zirconox beads. These beads are also made of zirconium, but stabilized with Cerium. They have a what brown color, but are also very hard and resistant to high energy impact.
For the DYNO®-MILL KD machines we advise our customers to use Jyoti Zircosil (zirconium silicate beads) or Zirconox ( beads in zirconium Oxide stabilized with Cerium).
If you have any questions regarding the use of beads in your bead mill or basket mill (no matter what brand), don't hesitate to send them to info@eskens.com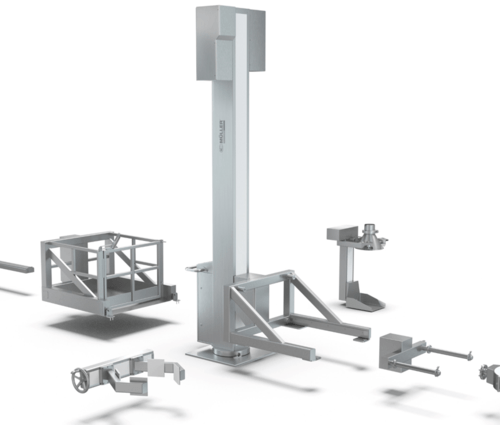 27 January 2021
Müller AG Processing : A new company with a lot of experience
The Müller Group merges the plant construction activities of the Müller GmbH, Müller AG Cleaning Solutions and Müller AG Intralogistics companies into the new Müller AG Processing with head office in Münchenstein (Switzerland).