Fine grinding and homogeneous mixing of nuts, seeds or beans in a PUC colloid mill
The Probst und Class colloid mill is often used for grinding peanuts, almonds, sunflower seeds, soybeans, or for the production of peanut butter
The production process is very simple: The seeds are introduced through a funnel into the vertical colloid mill, which grinds the nuts or seeds into a homogeneous pasty product.
In the production of Peanut Butter, the nuts go dry in the grinder and the fine butter comes out at the bottom. With other kinds of nuts that contain less oil, extra oil is sometimes added. The PUC Colloid mill simply distributes the oil homogeneously in the butter and creates a fine paste.
Even when extra ingredients have to be added to the product, this is no problem.
In the food industry, PUC mills are also used for the production of sauces, toppings and pastes. In other industries, products like animal feed, chemical pastes, grease and pigments are good examples of applications for these robust mills.
see also the following video on Youtube:  https://www.youtube.com/watch?v=osdjmmuLUgs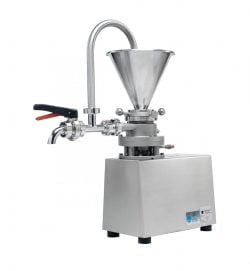 PUC:
Probst und Class is a German company founded in 1926. They have been developing and producing rotor stator systems for wet grinding and homogenizing pasty products for more than 90 years. The PUC Colloid Mill was first patented in 1933. Probst und Class also makes deaerators and supplies complete installations for the production of greases.
Eskens Process Solutions:
Eskens has been active in the wet milling segment for almost 50 years. As an agent of WAB, Eskens has been selling the DYNO-MILL grinders for many years and since 20 years the Colloid mills are also part of the product range.