Müller AG Processing : A new company with a lot of experience
The Müller Group merges the activities of 3 companies into Müller AG Processing
The Müller Group merges the plant construction activities of the Müller GmbH, Müller AG Cleaning Solutions and Müller AG Intralogistics companies into the new Müller AG Processing with head office in Münchenstein (Switzerland).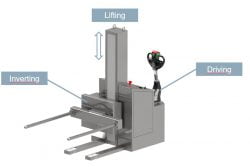 Next to this new Swiss company Müller AG Processing, Müller DrumTec GmbH, headquartered in Rheinfelden (Germany) expands their broad portfolio of lidded and tight head drums as well as single- and double-walled drums (that can be used for heating or cooling in line with specific applications) with butterfly valves and process components for filling powders and viscous media.
Eskens Benelux is your local Benelux partner for both Müller AG Processing and Müller DrumTec GmbH.