Two new TURBULA® 3D-shaker mixers: TURBULA®T 2 G en TURBULA®T 2 GE
Based on many years of experience in the field of mixing technologies, WAB developed two new TURBULA® mixers for users in industries that want to mix their individual product, whether dry-dry, dry-liquid or liquid-liquid, efficiently and guaranteed homogeneously. These safe and user-friendly 3D shaking mixers with integrated control options, such as recipe management and timer function, guarantee reproducibility in your applications.
The TURBULA® 3D shaker mixers are well known and used in all industries, in research and development as well as in production, where the highest demands are placed on the homogeneity of the mixtures, short mixing times, surface treatment and on the support of lengthy dissolution processes.
The mixing process takes place in a completely closed container, which means that the process is contamination-free and the machine does not come into contact with the product.
The TURBULA® series allows the use of mixing tanks with a volume of 0.1 to 55 liters.
In order to meet the requirements of the industry, the TURBULA® mixers can be supplied with qualification documents (DQ, FDS, FAT, SAT, IQ & OQ) and certificates (FDA, calibration, material certificates, etc.).
Advantages
The TURBULA® mixers produce homogeneous mixtures of powdered components with different specific weights and particle sizes.
Dry-liquid and liquid-liquid mixtures are also possible.
The mixing process takes place in a completely closed container and is therefore hygienic and dust-free.
The TURBULA® mixers can use containers of different sizes and shapes.
Very low cleaning effort
Easily accessible container holder for quick container changes
Special designs
For the cosmetics, pharmaceutical and food industries, TURBULA® mixers are available entirely made of stainless steel and can be adapted to the needs of the users:
Possibility of integration into insulators
Hermetically sealed mixer housing with external ventilation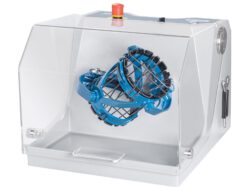 TURBULA® T 2 G – Simple operation and maximum reproducibility
Reproducibility of results: synchronization of the mixing movement every 4 ms and uniform energy input
Low maintenance: Electrical instead of mechanical drive concept, i.e. no chain tensioning service necessary, no grease or oil consumption, no rubber abrasion
User-friendly: A functional rotary switch leads to simple speed regulation
Secure: Fast "Ready to load" function. The mixing basket moves to the loading position immediately after the TURBULA® mixer has stopped.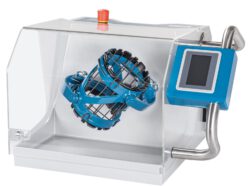 TURBULA® T 2 GE – THE NEW 3D SHAKING MIXER WITH INTUITIVE TOUCH SCREEN
Its user-friendly interface through the control panel with intuitive touch screen, PLC-based control and the possibility to obtain a data journal via Ethernet make the 3D shaking table an innovative product for your application.
Start/Stop function
Intuitive touch screen
Recipe management (up to 20 recipes)
Timer function
PLC-based control
infinitely variable speed regulation: 23 to 101 1/min
Password-protected operation
Tags:
homogeen
,
meners
,
nieuw
,
Turbula